Documents unearthed from 1951 detailing model names and pricing information
1951 must have been quite interesting for watch companies. One challenge that I've located is in the area of "Price Stabilization". I have not fully researched exactly what the events of the day were with the US Government, and you can bet the US Government had quite a major hand in this. It wasn't just Gruen that had to deal with the Price Ceiling situation and it wasn't limited to Swiss companies. Elgin is one example of an American watch company that sent similar letters. I'm sure all watch companies felt some impact.

The history behind these documents didn't interest me as much as the data contained in them. Not only are Gruen watches available for sale in 1951 listed, but so are their prices. This is a partial list of the Gruen products offered for sale that year. Keep in mind that the data is raw and unprocessed. Rather than wait until the information can be deciphered further and put into some useful resource, this time the data is going out just as it was received. Enjoy doing a bit of data manipulation, mining, and presentation for yourself.
This is the Cover letter that accompanied the documents (also shown below in a scan of the original)
July 2, 1951
10:00 A.M.
Dear Gruen Jeweler:

The Office of Price Stabilization has issued the attached Special Order Number 84 establishing the uniform resale prices of Gruen watches as the retail prices shown in Schedule A attached.

Effective immediately, you are required to observe the ceil¬ing prices shown in Schedule A for all watches on that list rather than the ceiling prices determined from the charts which you may have been required to file with the Office of Price Stabilization under Ceiling Price Regulation 7. Your copy of this Special Order, as well as Schedule A, should therefore be made a permanent part of your OPS records, readily available for quick reference.

If any amendments are made to the Special Order you will be notified promptly as part of our efforts to facilitate your handling of Gruen watches under OPS regulations.

Cordially yours
J E Wessels
Assistant to the President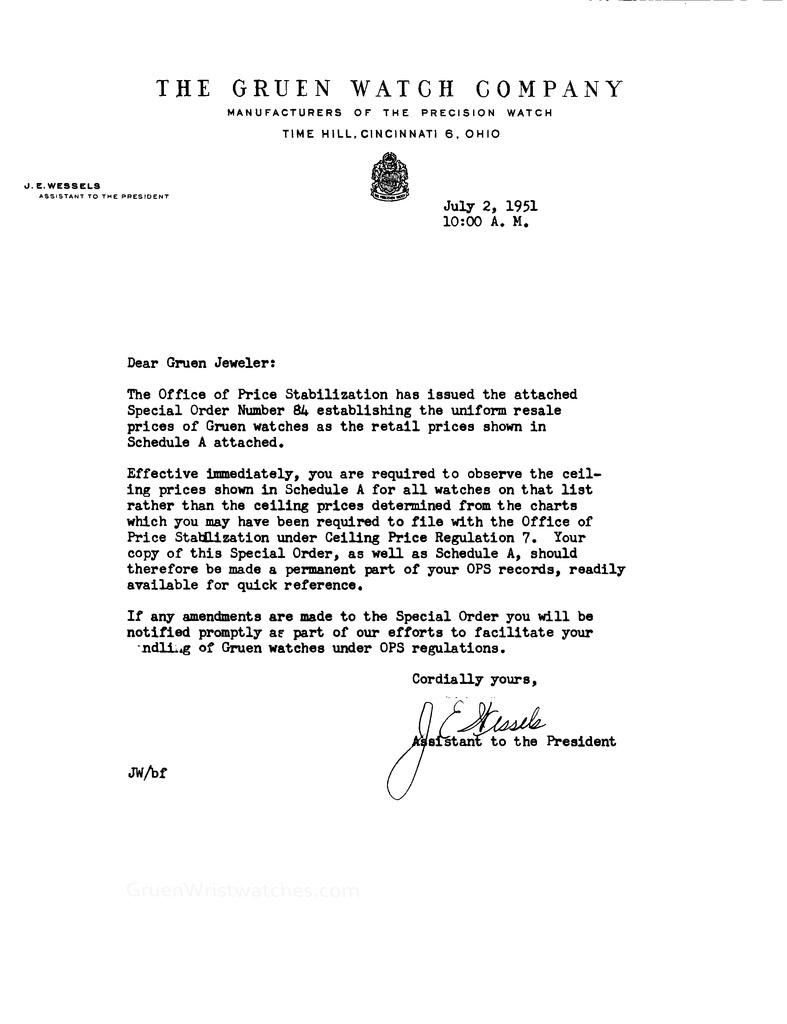 This PDF contains both the letter from Gruen as well as the accompanying documents that list the model names
© Copyright 2013, M. Barnett No re-use implied nor granted