Some handy links, some not Gruen related but may be of general interest
Mike The Watch Guy's Stuff
www.WatchmakingBooks - Bookstore containing many difficult to find watch repair related books. Currently offering ebooks with immediate access to them once purchased (or obtained for free such as the 453 Material Catalog found here: Free Catalog . Check back here at the GruenWristwatches site often for discount codes.
www.GruenWristwatches.com - This site
www.MikeTheWatchGuy.com - Direct link to Mike The Watch Guy's ebay store (shameless advertising)
Gruen Information
There are some really good sites on the net that have history, technical information, or books about the Gruen watches and The Gruen Watch Company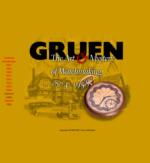 http://www.pixelp.com/gruen - THE site to visit for Gruen history and general Gruen information. Paul Schliesser's "Gruen - The Art & Mystery of Watchmaking, 1874-1958" should be your first stop in educating yourself on Gruens. This site was the first Gruen specific site, launched in 1998, long before many of us discovered Gruens. It continues to be the premier Gruen site with an impressive array of Gruen material presented in a beautifully designed website.
http://www.brucesvintagewatches.com/ - Site of Bruce Shawkey's vintage watch store and where you can purchase his Gruen book, "Gruen Wristwatches A Collector's Guide". It's the old Master Book from The Gruen Company, rewritten and cleaned up. I consider it a "bookend" to my books as they each have their purpose and his is wonderfully done. It is the other Gruen book that's the best! :- ) This link is to his storefront and where you can get his book.

www.TheWatchGuy.com - A great place for any beginner to START their educational and informational journey into the history of a large number of brands as well as getting technical guidance and tutorials on watch repair / restoration. The Gruen information is historically accurate with credit rightfully given to Paul S (see PixelP above) for helping with the detailed history. He has history and detailed serial number tables for many brands such as Waltham Elgin Hamilton Longines Rolex LeCoultre..... (long list). While the site has a lot of Gruen info, it is by no means Gruen limited.
I'm particularly fond of the "Beginners Guides" on how to clean and oil a vintage watch, opening a case, restoration, finding you watch's age. Kevin also offers a complete restoration service. I spent many hours studying the information on Kevin's pages while learning watch repair. It's a valuable resource that was given to the watch community selfishly. You'll find information on the horological associations, the AWCI and the NAWCC, and encouragement for readers to join and help keep this wonderful craft alive.
Kudos to Kevin for spending much time putting together a site that benefits Gruen collectors and collectors of countless other brands, as well as aiding and encouraging the newbies. It's a generous gesture and his support of the AWCI and NAWCC is a classy touch.
www.pocketwatchrepair.com/histories/gruen.html - TheWatchGuy's history of Gruen
welltuned.timer.jp/watches.html#IMPERIAL - Mr. Hiroaki Endo's Watch collection that includes pictures to outside and inside his Gruens
Watch Organizations
The National Association of Watch & Clock Collectors, and The American Watchmakers - Clockmakers Institute (AWCI) are the largest organization associated with watches and clocks. Both are worthy of your support. Please help the watch collecting community and those that make their living serving the industry by joining these organizations. The benefits they provide to you are both well worth the price of the dues.
www.AWCI.com - The American Watchmakers - Clockmakers Institute (AWCI)
NAWCC.org - The National Association of Watch & Clock Collectors (NAWCC)
Watch Repair Education
These are links I've found to be useful for learning watch repair
www.timezonewatchschool.com/WatchSchool/ - Hands down the BEST course in learning watch repair. It teaches good habits and starts out with how to use a screwdriver and tweezers, type very important tools to use correctly
http://www.tascione.com/source.htm - Bob Tascione's excellent video lessons on watch repair. The best video course you'll find. You can access the course online. And it doesn't hurt that Bob's a nice guy too.
http://www.watchdoc.com/ - Many great CDs full of PDFs and videos on watch repair. Good lesson on staking for example
Vendors & Other Links
Dashto.com - Tools tools tools... used tools and many watch parts at great prices
Watchmaker.net - One of the few guys that will vibrate a new hairspring for you, a dying art. Top of the line watch repair, doesn't get any better. NAWCC School of Horology Director.
YourWatchDoctor.com - Hadfield's watch repair. An NAWCC graduate. Also operates the watch repair information site WatchRepairInfo.com