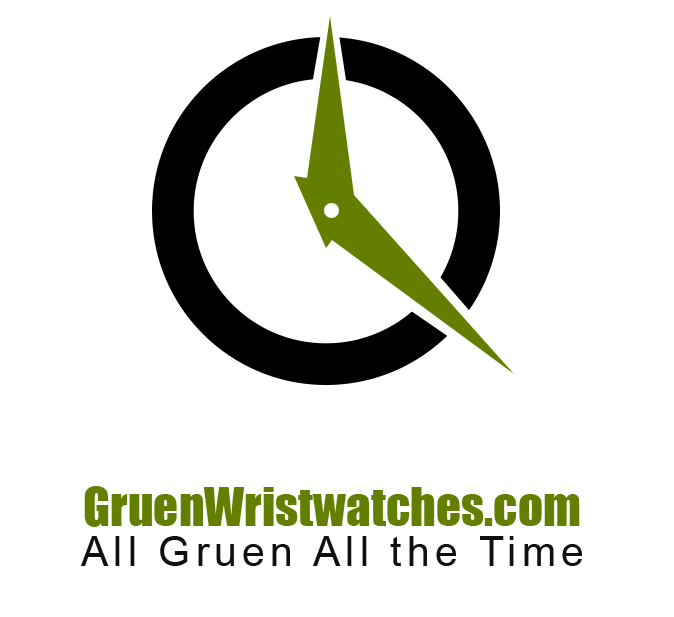 GruenWristwatches.com
Dedicated 100% to Vintage Gruen Watches... "All Gruen, All the Time"
Enjoy your stay and get as much educational material as you can carry



Welcome to 2016!
A new year, a new set of Gruen items coming next week for sale!
Bookstore is back open again
Date your Gruen using Style Numbers with the new online Style Number Dating tool
Simply enter your Style Number in the box below to find your watch's date and additional Style Number information. This online tool provides dates for Style Numbers back to 1925.
I hope you find something in these pages that both excites and motivates you. If so, please share it with others!
Mobile and tablet users - This site best viewed in "Desktop mode". The fonts are fairly large and the galleries work better in this mode.

WANTED! Documentation from the Gruen Watch Company!
If you have a relative that worked for Gruen then you may have some documents that are very important to Gruen collectors yet look like trash to you. Please contact me if you run across Gruen literature!
I'm particularly interested in "Microfilm"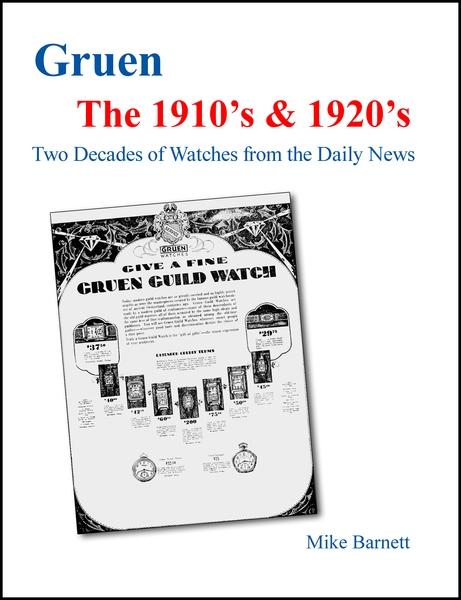 Gruen The 1910s & 1920s
NEW book for the Decade Series of Gruen Identification books
Continuing November being "Gruen Book" month, this time it's the 4th and final book in the Decade Series of Gruen ID books. This book covers two decades, the 1910s and 1920s. Like the other 3 books in the series, this book uses advertisements from newspapers to provide model names and other data about Gruen watches.
There are 970 images of watches in this guide, bringing the total from this Decade Series of books to 4,550 images of Gruen watches spanning the years 1910 to 1955. You can read about this book and all of the other Gruen books on the Gruen Book Description page. You can purchase copies in the Gruen Bookstore.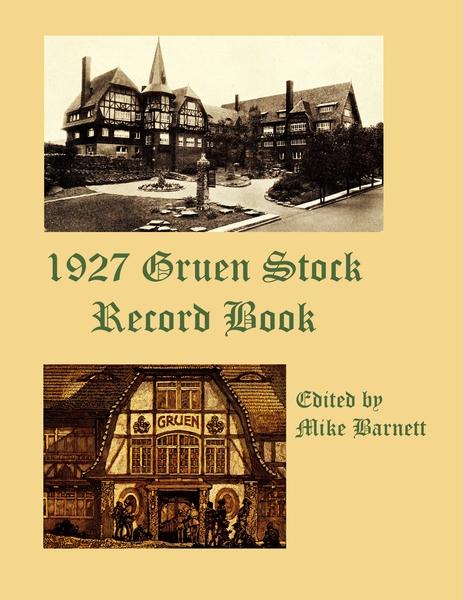 The Gruen
1927 Factory Stock Record Book
ANOTHER new Gruen book for 2015 and in time for the holidays!
Continuing November being "Gruen Book" month, this time it's a brand new Gruen published book never seen before.
It's actually a big deal. Sure, all the books launched here are a big deal, but this is really is a big deal to the world of Gruen. It has been a very long time since a new Gruen publication of any significance has been located.
And it gets better! Not only is this book full of never seen before Gruen models, it captures an entire Gruen catalog of watches as a snapshot in time. When this book was published in 1927, the 700 watches located inside represented the entire line of watches Gruen was selling at that moment. We've never had this kind of perfect snapshot before. We could only guess how many watches Gruen held in their catalog. Now we know, and we can measure how many they added over a couple year period because 2 years after this book the 1929 Guild book was published.
The format of The Stock Record Book is similar to the 1929 Guild Book. Some of the watches in the 1927 book are of course in the 1929 book, but a great number of them are not. This is the first time you'll get detailed information on these watches.
This Stock Record Book is being released along with a new edition of the Guild Book making them both affordable books. The price on the Guild book was dropped significantly while keeping it a color book, just as this 1927 book is a full color book.
Learn more about the book and see sample pages on The Gruen Stock Record Book webpage.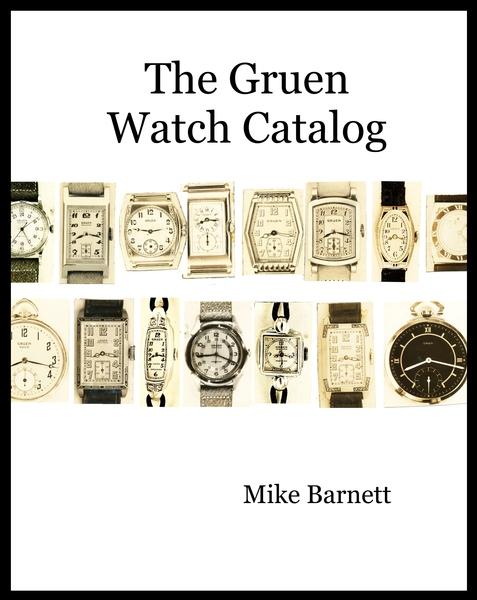 The Gruen Watch Catalog
NEW for 2015 and in time for the holidays! A color duplication of the Gruen relic discovered in the 1990s that contains photographs and data on nearly every Gruen watch model made from the 1920s to the late 1950s. Because the scanning and printing technology is so advanced, owning this 280+ page book color book is like owning the original.
The same source manuscript used to create The Gruen Watch Catalog was utilized by Roy Ehrhardt to create his black and white book, The Gruen Master Book. That book was published using a photocopier so the quality is compromised and the true beauty of this rare manuscript is missed.
The Catalog captures the minute details found in each watch's photograph. The shadows of hands are clearly visible on watch dials. Text stamped in the back of cases can be read with ease. This attention to replicating the photographic detail resulted in a book that is both highly functional for matching physical watches to images in the book and also simply beautiful.
Learn more about the book and see sample pages on The Gruen Watch Catalog webpage and in the Gruen Bookstore.
International customers will often find the shipping cheaper by purchasing directly from Lulu. Frequently you can find Lulu offering discounts or free shipping advertised on the Lulu Homepage.
Here are a few sample pages from The Catalog. Visit The Catalog webpage for more detailed images.
January 2016
Welcome back everyone! Did Santa bring you the Gruen you wanted for Christmas? If not, then this may be the place to find your next Gruen. The sell-off continues with a new batch of watches coming next week so stop back in for Gruen watches and soon I'll be adding Gruen memorabilia to the mix. There's a new-old-stock, just overhauled Alpina coming :-)
If there's something that hasn't been officially listed for sale that you're interested in, make me an offer! If you've seen it, it's for sale.
December 2015
The Watch Shop and the Bookstore are both closed for the holidays. I'll be open again in January 2016. Best wishes for a safe and fun holiday season! Come back in January. A new batch of Gruen watches will be up for sale!
Added site-wide search to the top of this screen. This may not sound like much, but WOW, it's powerful stuff! Enter Wadsworth Serial to immediately find the page about Wadsworth case serial numbers that is down inside the Reference section and not trivial to find.
BIG EBAY SALES EVENT! Many Gruen up for auction on eBay. Check the ebay listings at: Auctions.GruenWatchShop.com
Here they come! Watch daily for new Gruens in the Gruen Watch Shop
2015 is the year of the "good stuff". I'm not off-loading a bunch of junk but rather am selling the best I own.
For you restoration folks, I'm beginning to include watches that I had purchased to restore, but no longer have the time to restore them. Like my restored Gruens, they too deserve good homes where they can be fixed up. And like the restored ones, these are unusual watches that you don't see everyday.
Daily new additions (check back daily, no kidding)
For watches that are not yet priced but are photographed, please check with me for the price

. Getting them up on the site is a higher priority at this point than pricing everything out.
SO many Gruens flew out the door in the past 2 weeks alone!!

1926 Strap 68
1946 Curvex Comet
1940 Veri-Thin Belmont

1944 Veri-Thin Military Import

1940s Pan American Import

Caliber 127 early women's Wristlet

1936 Curvex Royal. 311-228 Early Curvex
1927 14K White Gold Cartouche 43

1970 Gruen Date/Alarm Wristwatch

1937 Women's Dual-Dial Doctor's Watch

1955 Baxter
1951 Veri-Thin Submarine

1940 Veri-Thin Helmsman

1927 The Gruen "Strap" watch

1947 Veri-Thin Holmes

1948 Veri-Thin Apollo
1950 Curvex Lord
1936 Gruen Esquire - Hidden lugs
1944 Gruen Veri-Thin Practitioner - Two-toned case
1936 Gruen Major
1937 Curvex Cadet 330-280 early Curvex with extra long case

1918 or later Sterling Silver Lady's Wristlet

1918 Lady's "Ribbon Wristlet" model

Quadron 114 Streamline deco design
Pre-1925 Early Strap
1936 Curvex Royal
1929 14K Green Gold Quadron

1931 Chief with a rare 17 jewel Guild movement

1936 Biltmore streamlined men's watch with original dial
November 2015
Added the Wadsworth case serial number dating tables.
Updated the ID Gruen Gruen! tutorial with the latest books and several new dating tables. Added a Mosaic diagram of all resources available to help.
Created an free INDEX for the 1927 Stock Record Book and the 1929 Guild books. Over 1,700 watches are detailed. You can download a PDF of the Index or read it online. Makes finding these watches much easier.
Added a page of movement diagrams Gruen used in their ads, materials catalogs, etc, to show how the wheels are arranged to make thinner, curved, and rectangular movements.
It's book month at GruenWristwatches! It's a great time to be a Gruen collector hungry for information. New books, big discounts on other books, get combinations of books at a discount. Tell your friends and family that you want Gruen books for Christmas!
A new Gruen published catalog of watches has been found! The 1927 Stock Record Book contains information on 700 Gruen watch models. The significance of this book to Gruen collectors and particular Gruen researchers can't be understated. Learn more about it on the Gruen Stock Record Book webpage.
The 2015 edition of the Gruen Guild Book is now available! Additional image processing resulted in a book printable in a much more affordable way. It is still a high-quality color book, but the price was slashed to over 60% off. Now only $25
The Gruen Watch Identification Guide - Volume 2 is on sale! Take 33% off the normal price!! Now only $40. Crazy cheap pricing.
October 2015
Schematics for caliber 335 movement first of a number of documents unearthed that belonged to a former Gruen employee. It was an incredible find. Expect to see many more of these kinds of documents!
The Gruen Watch Catalog ! A NEW book for Gruen collectors. Over 280 pages of 4,000+ color pictures of Gruen watches. A duplication of the Gruen relic that surfaced in the 1990s.
Version 4.0 of the Style Number lookup tool. Extends the Style Number dating back to 1925! The online Style Number tool has also been upgraded to include all of the data for Style Numbers back to 1925.
Rework of Reference Page now complete. Enjoy the new page!
A graphical look at Gruen's use of movements over time added to reference page.
September 2015
Added a presentation on tariffs that Fred Gruen presented to the Ways and Means Committee of the House of Representatives in 1913
Added a new issue of Gruen Time Magazine, July 1953, which has an article on the use of Microfilm to replace paper record keeping.
Added the text from the Gruen Time Magazines March, April, May, June of 1940. The information on these issues is important enough to warrant making it readable and searchable directly on the webpage.
Added a reference picture of men's Curvex movements with caliber, year and size information to the Reference section. Women's movements need to be added.
August 2015
Added a new booklet that was pasted into the back of all 1929 Gruen Guild Books called "How to Select and Care for a Fine Watch".
Redesign of Reference Section in progress so that adding material is easier and search engines crawl better
Posted a Gruen video of a 1950s era commercial. Fascinating. Showing off many models of higher-end Gruens. You'll find it on the videos page.
July 2015
Made the shareholder reports readable online! You've got no excuse now for not reading these important documents.
Another advertisement analysed for accuracy versus a photograph of a watch. A Veri-Thin Airman was used and the results are stunning.
The online Style Number dating tool has been updated with the latest research data (by B. Cooper) The new Style Number table extended the earliest date back to 1929! The previous table stopped at 1935.
July 2015
Added a Gruen History page. The first part of the series is an overview of the company history and the famous movements they created.
June 2015
Added Gruen Annual Company Reports for the years 1936 to 1953. There are a total of 179 pages for your to pour over and digest. They are a real treasure trove of previously unknown Gruen history.
May 2015
Added a 1947 Curvex Trooper to the Gruen Watch Shop
Added a mint Strap 99 to the Gruen Watch Shop. It is time to begin the purge of accumulated restorations. I will photograph and post as quickly as I can, which is likely to be slower than I would like given the other Gruen activities.
Added a gallery along with a discussion of the caliber 819 movement which appears to be the least used Gruen production movement.
Added a gallery with a pair of green gold quadrans
Added a PDF of the 1917 Gruen "Blue Book".
Mar 2015
A couple of new watches posted in the gallery - a ladies wristlet style, a white gold Quadron.


You can now buy an epub version of the Gruen Horological Text in the Google play store! The book was reformatted to fully utilize epub features such as table of contents and font resizing. Other watch repair books and reference books are being actively added. Special price on this new ebook!
Added a tutorial on how to open a snap back watch case. In general, it is not Gruen specific. It does contain a section on data collection that is Gruen specific. Use at your own peril.
Feb 2015
Advertising images of 1930 Hollywood starlets holding Carre watches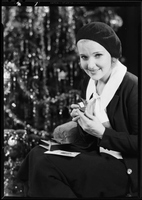 Added the galleries for the Tilton and Veri-Thin Hollywood to my restored Gruens galleries page.
Nov 2014
Canadian Invoices - now in gallery format and PDF format. Much easier to browse and read.
Oct 2014
Brought back this "What's NEW" section to the homepage. The most recent updates will be shown here now as well as on the Updates page
An original photo of the 1929 Alpina-Gruen sales conference. Here you'll find a very high resolution scan of the photograph that is printed in the back of the 1929 Gruen Watch Makers Guild Book. This photograph shows more people and is extremely clear.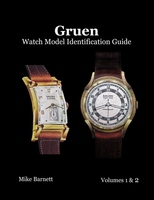 The Collector's Edition of The Gruen Watch Model Identification Guide
A Hard Cover Book containing BOTH VOLUMES 1 and 2
Get the
Hardcover Collector's Edition
for the
same price
as the combined prices for the current Volume 1 and Volume 2 soft cover books. That's right, get both volumes, in hardcover format, for the same price as the soft cover versions. See the Gruen Bookstore for more information on ordering.
The Latest in the Gruen Model Identification Books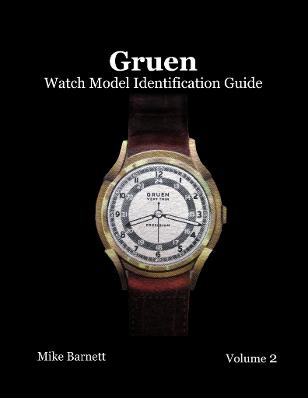 Three years in the making and it's finally done.
The Gruen Watch Model Identification Guide Volume 2 contains considerably more watches than Volume 1 -- 60% more to be exact - the two Volumes together provide identification for over 1,000 vintage Gruen watches. Volume 1 has 97 pages identifying 389 models while Volume 2 has 170 pages that identifies 648 watch models, totaling more than 1,000 watches. Amazingly this accounts for less than 1/2 of the watch models Gruen made.
Watches of every type of Gruen watch are identified. These include the main 'series' of Gruen watches - Curvex, Veri-Thin, Quadron, Cartouche, Baguette, Auto-Wind.
The book is available for purchase in the Gruen Bookstore.
Learn how to Identify Gruen watches!
You too can be a pro at finding information about any Gruen watch using the tips, techniques and tools found
here
As part of the desire to help educate and foster education in Gruen watches and the ability to identify them, I wrote a new tutorial outlining some of my secret tools and techniques that I employ when researching a new (to me) Gruen watch. There's actually no secrets, just patience and hard work.
Find the name and the age of your Vintage Gruen, even if you're not an expert.
The New Style Number Dating Method for dating Gruen wristwatches helps collectors obtain date information for almost all Gruens, regardless of who made the case or the caliber of the watch, etc. It's about as general purpose of a dating tool as one could imagine. You don't have to already know much about the watch in order to date it. You need to read some information in the back of the case.
FREE Windows software available on the same information page for quickly determining your watch's approximate date (using this new technique). NEW version 2.0 for 2014 makes a major improvement in the data provided back to you.
This method was published in the AWCI (American Watchmakers Clockmakers Institute) and most recently by the NAWCC (National Association of Watch and Clock Collectors) in the NAWCC Bulletin's April 2013 issue. It was the featured article of the month so that members and non-members could read it. Should you wish to read this month's free NAWCC's Bulletin article it's here on the NAWCC's website.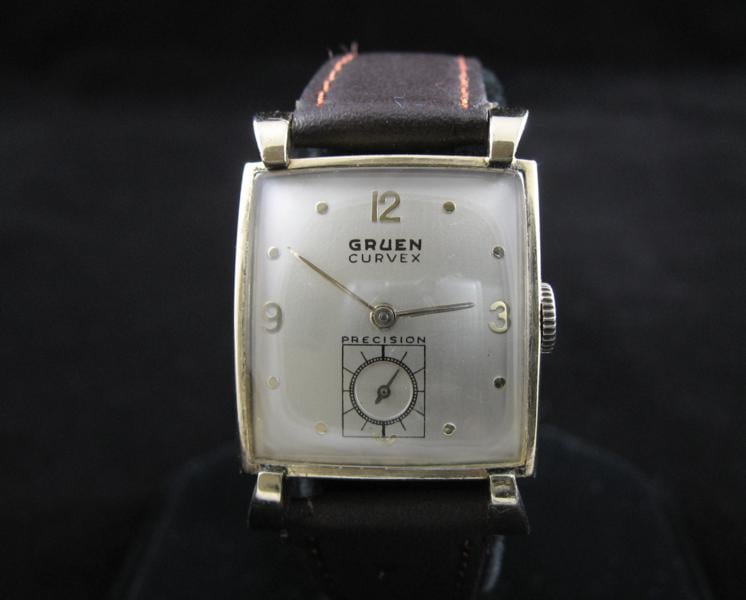 This is THE watch that hooked me, yanked me into the world of Gruens. It started the obsession I suppose. Until I restored this specific watch, I had never heard the name "Gruen" before (honest). I even had this watch for sale on eBay before I noticed the beauty.
If you're new to Gruens, I hope you stay for a while with Gruens and get to know the brand. It's full of adventures and mysteries unlike any other watch brand.
All photographs, digital documents, movies, and any other digital material ( galleries, etc ) are copyright © 2013 by Second Hand Press.
Permission for re-use or distribution, in any format, is not implied nor granted. Information contained here was purchased, collected, created and assembled for personal consumption.
If information here was obtained from other sources, explicit permission was obtained. Please treat their information with great care.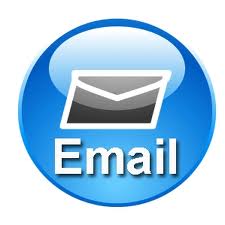 Have some suggestions? Want to contact me? Don't. I don't have time for your stupid questions.
OK, OK, Go ahead and press the button and send me an email. I'll be happy to read it :-) (humor people... it's all humor)
However, please do not send me pictures of your grandmother's watch asking for information about it or how much it's worth. If you would like information on your Gruen watch, I do provide an identification service. I don't mean to be rude, disrespectful, unhelpful, nor out to make a bunch of money. I quite simply don't have the time to dedicate answering the many requests that I receive.
I do not know where you can get your Gruen watch repaired. One resource for you is the NAWCC member business directory which you can use to find a watchmaker in your area.
I know nothing about finding links for Gruen bands, nor have any knowledge of modern Gruen watches (models page 1959).
I AM, however, passionate about Gruen watches, really enjoy educating people, and try to gather and disseminate as much difficult to find Gruen material that I can get my hands on, most of the time at no cost. In other words, I often buy stuff and give it away.