Gruen Movement Dating using movement serial number
The serial number encryption for Gruen movements in the 405 410 420 & 425 families has been [finally] cracked... or so is hoped. More detailed information is contained in the Gruen Forum.
This table is for the 405, 420 and 425 based calibers and is a guide for determining the approximate date of manufacture of a movement. It's most applicable for calibers 405, 406, 410, 411, 420, 421, 425, 426 and the sweep-seconds versions. Please keep in mind that this table is in a 'draft' form and may change. Any and all comments on its validity and applicability are welcome.
Enjoy using it... comments and improvements are welcome
405 406 410 411 420 421 425 426
Serial Number Year
-----------------------
100,000 1939
175,000 1940
250,000 1941
400,000 1942
600,000 1943
750,000 1944
900,000 1945
A 100,000 1945
1A 10,000 1945
1B 10,000 1945
A 900,000 1947
B 100,000 1947
B 900,000 1949
C 100,000 1950
C 800,000 1952
A few caveats when dating your watch: 1 - Keep in mind that movements could have been made years prior to its incorporation into a watch; 2 - Movements swapping is a common repair method, so be aware your watch may not contain its original movement
Copyright 2012 - M. Barnett & J. Wood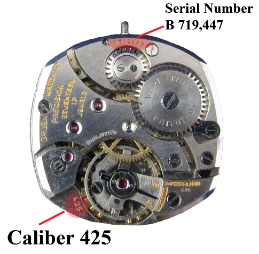 | | |
| --- | --- |
| Download a PDF version of the table | |