Gruen Annual Reports 1936 - 1956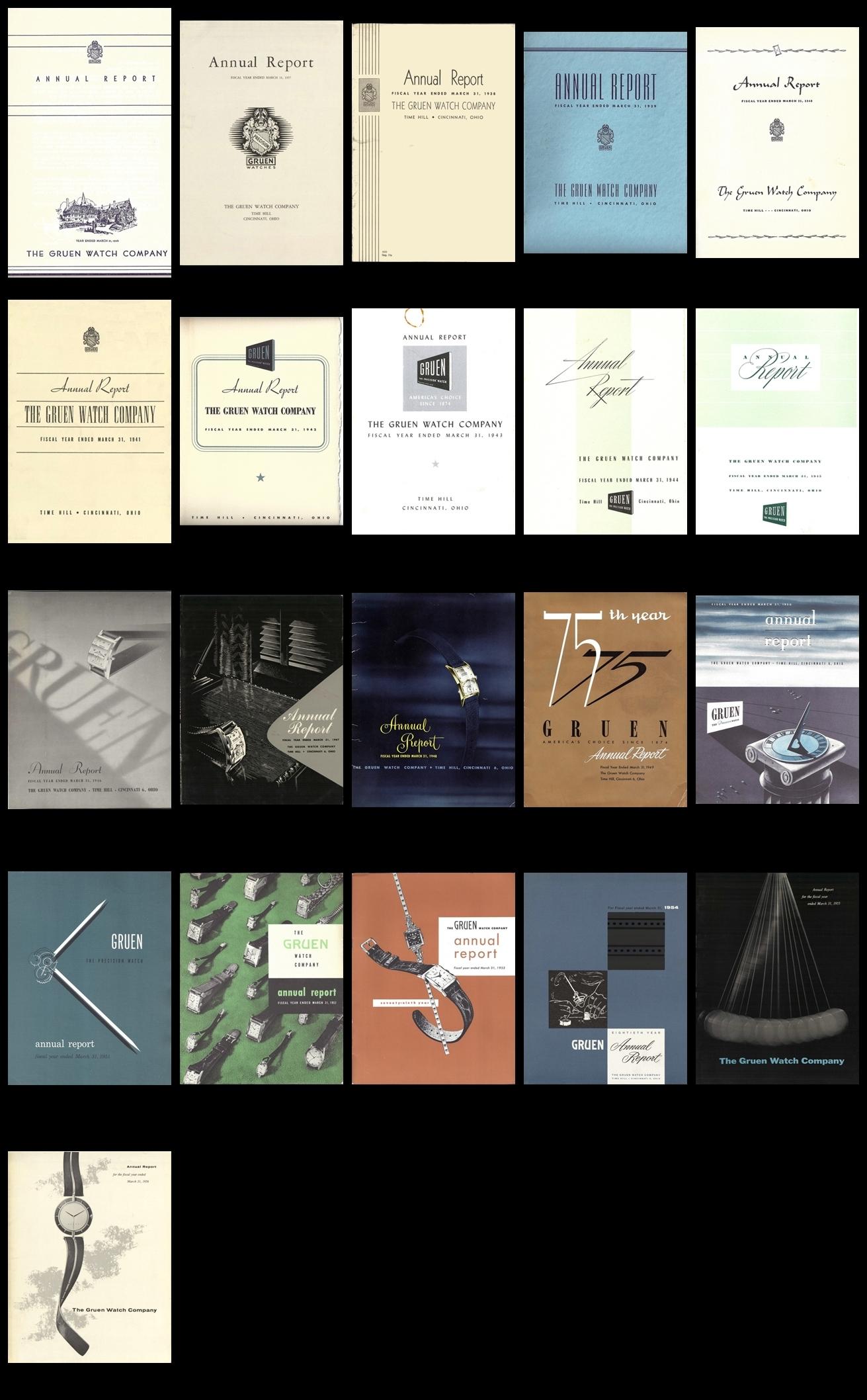 Jan 2017 Update
A generous site visitor located all of the missing annual reports and sent them to me for us all to enjoy!
THANK YOU to Mystery Gruen Watch Guy Steve !!
We now have every Gruen annual report from 1936 to 1956
They total 342 pages!
That's 21 years worth of Gruen history as told by Gruen's Presidents and backed up by financial numbers where it's not quite as easy to hide how things are going. Thank you Steve SO very much for doing this.
I've combined them all together into a single file that you can download & read offline. You'll also find an "online" version at the bottom of this page. I'm using Google Drive's embedded PDF viewer. Hopefully this one will work better than the others I've used.
Who would have guessed that something as pedestrian as annual shareholder reports could contain the most valuable and accurate information about the Gruen Watch Company? Every year has reflection on how the company performed in the previous year. The challenges Gruen faced, the obstacles they overcame, and the achievements are all part of the explanation as to why the company did well the previous year, or perhaps didn't do so well.
If they're like many of the other bits and pieces of Gruen documents, they hold answers to questions asked today as well as answers to questions yet to be asked.
The documents themselves are Annual Shareholder Reports. These are the same kind of documents that companies release today to their stock holders. Since Gruen was a publicly traded stock, they were required to file financial statements publicly. This gives us a detailed view into the company's financial state year after year.
I've found each of the company reports to be fascinating as they provide insight into what the environment was like at that time, both external and internal to the company. Each phase of the company's history brought a new set of challenges. The war years were full of problems for all companies... as well as opportunities for Gruen to take advantage of.
The 1950s brought a whole new set of challenges to Gruen. These problems and how Gruen handled them ultimately resulted in Gruen's tumble from the prominent position it held in the watch world for so very long. You can see, quite clearly, in the 1950 annual report that the nose dive began that would drive the company right into the ground.
There are a total of 342 pages contained in this collection.
It is one of the largest collections of pure Gruen research data and information that I've ever seen. The PDF is fully searchable so that you can easily find mentions of Curvex or Pan American for example. In general, with any PDF that's searchable like these, use shorter search terms. Instead of searching for "Curvex" search for "Curv". One other tip, use the "find all" search that all PDF readers include. Press Control+Shift+F to pull it up. It will provide you a list of all of the occurrences it found in the document that you can then click individually to jump to the location. I tried my best to make the PDF as high of quality as I could get it.

I hope these are of great help to Gruen historians and researchers. I'm happy to be able to share them with you as the source material was shared with me. It has taken some time to make them available, but they're finally here.
I encourage you to read them and share the bits and pieces you found interesting or significant. Post what you learn on one or more of the Gruen forums. For example, I found it interesting that a ship with 20,000 movements was sunk in September 1941. That gives us a little clue as to how many movements were shipped at one time from Switzerland to Cincinnati.
Please see note regarding reposting and use of this document. It took a lot of work to obtain these and make them available. I ask very little in return.
Gruen Watch Company Annual Reports 1936 through 1956 in one PDF file containing 344 pages
Enjoy these documents and by all means use them for as much research as you can. They are free and free for you to download and use for your own personal consumption. Please do not repost these files elsewhere. If you would like to link to them, link directly to this page. Should you lose your copy come on back to the site and pick another up. Doesn't seem like a bad trade.
© Copyright 2014 M. Barnett No re-use implied nor granted