Free Gruen 453 Material Catalog. Read below for instructions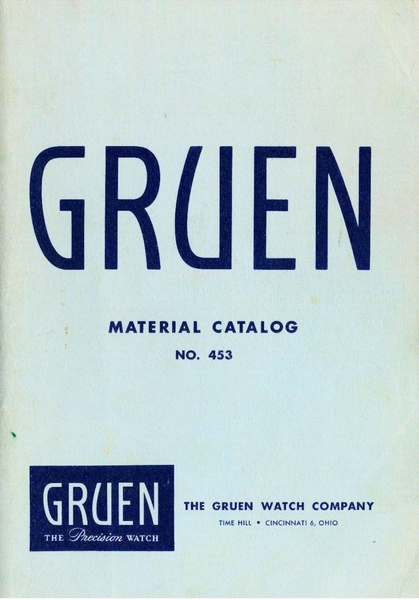 If you enjoy this free Material Catalog, share the love with a facebook like or a Google+ so that other Gruen fans can enjoy the catalog and the entire site. You may even enlighten some folks and show them the Gruen-way. Sharing is painless compared to downloading a free catalog
I really hope you find a lot of use and enjoy this catalog. It took some effort to create and share it. Try and put it to good use by repairing some Gruens so that they'll be back in use again. Someone will be happy with your work I'm sure.
You can get a free copy of the PDF of this material catalog by visiting the WatchmakingBooks.com bookstore, choosing the ebook, and entering the coupon code at the checkout:
GRUEN453FORME
No purchases are required to receive the free catalog. You don't have to make any purchases just put it in your cart and the normal price of $1 will be removed when you enter the coupon code at the checkout. You'll then get your download link.
The Gruen 453 Material Catalog was the last of the series of vintage catalogs produced by Gruen. It dates to 1953. There was one produced in the 1970's that was a big departure from these early Material Catalogs and isn't very interesting. Contained inside is information on
Parts interchangeability (stems, staffs, all other watch parts)
A real plus of this Material Catalog is that it covers a wide range of Gruen movements, from the early years of before 1910 such as the caliber 98, through all of the
Curvexes (Calibers
311 330 440 370)
, the
Veri-Thin
calibers, the
Quadron
, the
Cartouche
, the
Baguette,
and nearly every other caliber Gruen made.
The Gruen Caliber 415 movement
even sneaks into the catalog. This important movement was used heavily throughout the 1950's as round watches became popular.
After 1953 Gruen began to stop making movements for themselves and turned to ebauche makers.
Gruen also made similar catalogs containing detailed information on movements from the era they were printed. Movements discontinued by 1953 are covered in earlier catalogs. The years these core catalogs were made are 1939, 1945, 1948, 1953, and they are numbered 539, 545, 448, 453.
The bookstore is associated with this Gruen site, no secrets trying to be hidden here. You can purchase a bundle of the rest of the main Gruen catalogs at WatchmakingBooks.com as well. Do a little shopping while you're there picking up your free catalog.