Even more places to visit
Gruen Specific Information
There are some really good sites on the net that have Gruen history, technical information, and books about Gruen watches and The Gruen Watch Company
By far the best is....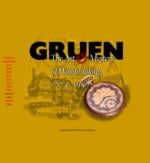 www.pixelp.com/gruen - THE site to visit for Gruen history and general Gruen information. Paul Schliesser's "Gruen - The Art & Mystery of Watchmaking, 1874-1958" should be your first stop in educating yourself on Gruens. This site was the first Gruen specific site, launched in 1998, long before many of us discovered Gruens. It continues to be the premier Gruen site with an impressive array of Gruen material presented in a beautifully designed website. If you're no hooked on Gruens entering, you likely will be when you leave.


WatchesOfTheGuild.com - One of the few sites you'll find dedicated to Gruen watches. This one focuses on the early days when wristwatches were moving out of the shadows of war and into the world of fashion and practicality that this new format of timepiece, the wristwatch, offered. Gruen chose to focus on the concept of the "Gruen Guild" that projected an image of craftsmanship that has been handed down through generations of watchmakers. The core of the site are the clear, closeup images accompanied by technical descriptions of these Guild era Gruens.

NAWCC Gruen WIKI Page - The NAWCC has started to create a WIKI encyclopedia covering anything and everything about watches and clocks.

Gruen WIKI Page - The "official" Wikipedia.org page for the Gruen Watch Company

Gruen Company and Watches Forums
Make contact with other Gruen collectors, converse with experts, and help out with the conservation of the Gruen history and watches.

http://www.VintageGruen.org - Forum site that is entirely dedicated to Gruens. If you're looking for the Gruen experts, this is one location to find them for sure. All aspects of Gruens, the company, the watches, the history are discussed. In addition to people, you'll find lots of pictures of members' watches and technical data. Hang out long enough and you can't help but become a Gruen collector.
http://vintagewatchforums.com Gruen dedicated Forum - One of the very few forum sites you'll find on the net that have a sub-forum dedicated to Gruen watches. You'll also find Gruen experts hanging out here. Note that the site isn't Gruen Specific, only this portion of the site. It's a small microcosm of Gruen within a very good site.
Other forums where you'll find Gruen people
General Watch Forums
There are some very good forums on the net that cater to collectors and to people learning watch repair. The NAWCC is one of the better known, especially to NAWCC members, but some of the privately run forums are just as good as the NAWCC's corporate funded site, and some even better.

www.watchuseek.com - Perhaps the best watch forum that currently exists. The membership is large, and it's an active site. It only takes subscribing to one or two forums to quickly become overwhelmed with the number of updated and new topics every day. For those learning watch repair.... go here. More advanced students or the wise watchmakers are often found here. If you're experiencing a problem, there are likely 100's that have faced it before. And as they say right in the logo.... "world's most visited watch forum site".
mb.NAWCC.org - The massive NAWCC forum. Any and all aspects of watchmaking and clockmaking are here. Huge number of topics and areas. Has a large archive so when researching, don't forget to check out this free resource.
More Gruen People and Places

http://www.brucesvintagewatches.com/ - Bruce Shawkey's site that's updated quite often with vintage watches for sale. He's one of the most upstanding seller of vintage timepieces. Bruce has been instrumental in bringing the Gruen reference material found the book he authored, Gruen Wristwatches A Collector's Guide, into the digital age. It is based on the original factory records that he spent considerable time performing image processing on scans from the original photographs.

www.TheWatchGuy.com - A great place for any beginner to START their educational and informational journey into the history of a large number of brands as well as getting technical guidance and tutorials on watch repair / restoration. The Gruen information is historically accurate with credit rightfully given to Paul S (see PixelP above) for helping with the detailed history. He has history and detailed serial number tables for many brands such as Waltham Elgin Hamilton Longines Rolex LeCoultre..... (long list). While the site has a lot of Gruen info, it is by no means Gruen limited.
I'm particularly fond of the "Beginners Guides" on how to clean and oil a vintage watch, opening a case, restoration, finding you watch's age. Kevin also offers a complete restoration service. It's a valuable resource that was given to the watch community selfishly. You'll find information on the horological associations, the AWCI and the NAWCC, and encouragement for readers to join and help keep this wonderful craft alive.
Kudos to Kevin for spending much time putting together a site that benefits Gruen collectors and collectors of countless other brands, as well as aiding and encouraging the newbies. It's a generous gesture and his support of the AWCI and NAWCC is a classy touch.
www.PocketwatchRepair/Histories/Gruen.html TheWatchGuy's (no relationship) history of Gruen
welltuned.timer.jp/watches.html#IMPERIAL - Mr. Hiroaki Endo's Watch collection that includes pictures of outside and inside his Gruens
seiberlingvisualhistory.org/pocket_watch/ - The story of F. A. Seiberling's Gruen 50th Anniversary Pocket Watch. Includes a fantastic array of items that accompany the watch including the original case that came with the watch. A rare find! This watch and materials were featured on Antiques Roadshow. The family history makes the watch even more special.
Other Brands
Elgin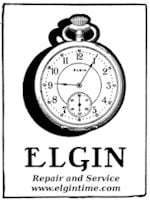 ElginTime.com - Should be your first stop if researching any area of Elgins. THE place to lookup Elgin Serial Numbers. Enter your serial and out comes tons of info such as AGE, Grade, Size, Jewels, and much more! It's a vast database and one Gruen collectors can only dream of having this much information. It's a lively site with a lot of activity. Jeff has a fantastic blog, and an active Google+ page and Elgin community. Reference material, staff size searching, FAQs... you can spend days on the site.
Watch Organizations
The National Association of Watch & Clock Collectors, and The American Watchmakers - Clockmakers Institute (AWCI) are the largest organization associated with watches and clocks. Both are worthy of your support. Please help the watch collecting community and those fmake their living serving the industry by joining these organizations. The benefits they provide to you are both well worth the price of the dues.
www.AWCI.com - The American Watchmakers - Clockmakers Institute (AWCI)
NAWCC.org - The National Association of Watch & Clock Collectors (NAWCC)
So you wanna fix watches....Watch Repair Education
These are links I've found to be useful for learning watch repair

www.WatchmakingBooks.com - Books and ebooks on watch repair and reference books.
www.timezonewatchschool.com/WatchSchool/ - Hands down the BEST course in learning watch repair. It teaches good habits and starts out with how to use a screwdriver and tweezers, used fairly often (90 something percent of the time?), they're tools one would likely want to use correctly.
http://www.tascione.com/source.htm - Bob Tascione's excellent video lessons on watch repair. The best video course you'll find. You can access the course online. And it doesn't hurt that Bob's a nice guy too.
http://www.watchdoc.com/ - I started by reading Ed's courses. These are some of the best course's you'll find anywhere. It was Ed's courses that I first bought when I started my education. I learned a number of things from his courses that I have not read elsewhere. They were entertaining enough to hold my attention and as a result I was firmly hooked before I realized it. Many great CDs full of PDFs and videos on watch repair. His staking course is particularly good.
Vendors & Other Links
Dashto.com - Tools tools tools... parts parts parts... used tools and many watch parts at great prices

International Dial has been around since the first pocket watch ticked for the first time. If you read the old trade journals like the NAWCC Bulletin, you'll find International Dial ads going back through the 90s, 80s, 70s, 60s!
Watch Repair
Time Restoration - THE place to go with your ailing Gruen. You may notice that recommendations for businesses is something done with great CARE on this site. The LAST thing I want to do is send people to some place where there's even a possibility of being ripped off. And, when it comes to watch repair, most collectors are fiercely protective of their watchmaker, and for practical reasons. Why potentially add more customers in front of your repair?? Well, because it's the right thing to do is why. That's why I'm posting one of the best watchmaker's I've worked with. Jeffrey has repaired more of my Gruens than anyone else, so it is with no hesitation that I recommend him for your Gruen repairs.
Murphy's Watch & Crystal Services - My secret to a making a great looking Gruen look fantastic? The properly installed, new, clear, thin, glass crystal. A great number of the posts in watch repair forums are people looking for Gruen watch crystals. It's not surprising given the diverse shapes Gruen made. Murphy's is my secret weapon. They are inexpensive and safe. I mail my bezel to them with the information written in the caseback (Caliber + Style Number are critical to send if you don't send the whole case). They mail back the bezel with a crystal that perfectly matched the original that as in it or was exactly what I asked for. I've yet to stump them. Their prices are SUPER reasonable. I've never paid more than $50 for an installed crystal and it was often 1/2 that. They make it hard to justify buying crystals and then spending the time to properly fit them. I'm in the process of getting you a price list so stay tuned.
The Watch Tech - Vintage Watch Restoration and Repair. A one-stop shop that can take in your trashy watch and return it back a treasure. You don't run across many watch repair outfits that will publish their rates. Matt puts his rates right there in front of you like a menu. His gallery does a great job of showing what Matt can do to a watch from pocket watches to Chronographs. You'll notice his membership in the NAWCC and the AWCI right on this main webpage. Matt's doing his part to make the watch collecting world better, one watch at a time.
Watchmaker.net - One of the few folks that will vibrate a new hairspring for you, a dying art. Top of the line watch repair, doesn't get any better. NAWCC School of Horology Director.
YourWatchDoctor.com - Hadfield's watch repair. An NAWCC graduate. Also operates the watch repair information site WatchRepairInfo.com