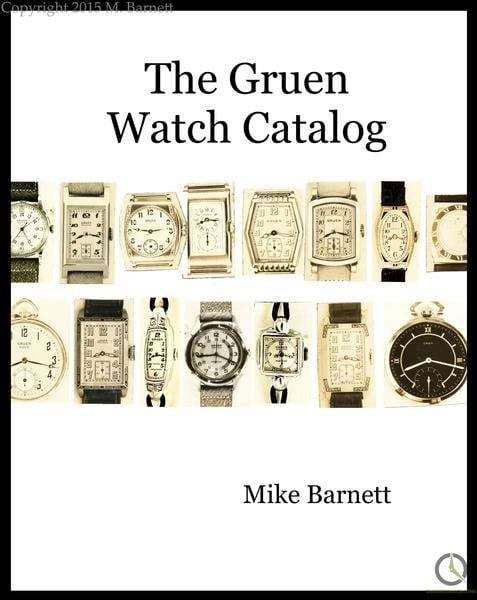 The Gruen Watch Catalog
A NEW Book for Gruen Collectors
A complete duplication of the manuscript that surfaced in the 1990s. It was created by the Gruen Watch Company for internal use, never meant to be published nor seen by the outside world. This rare relic contains nearly ever Gruen watch model from the 1920s to the late 1950s.
The manuscript is a series of photographs with data about each of the watches pictured. The Gruen Watch Catalog is a color duplication of every page contained in the manuscript. Nothing is left out... Pocket watches, wristwatches of all types, lady's watches, Carres. They are all in the book and printed in full color.
For the first time collectors will be able to own a book that is just like owning the original document. It is faithfully reproduced to that level of detail. Not only is the publication a high quality copy of the original, the original manuscript's photographs are themselves high quality photos of each watch. The result.... a stunning 280 page color book of more than 4,000 individual Gruen watches.
This manuscript was also used by Roy Ehrhardt in the 1990s to create a book he called The Gruen Master Book. The quality of that book was quite poor due to the fact it was printed using a copy machine. This also meant that the number of copies that exist are quite small and this book is a rare one.
This gallery contains images that were printed in The Gruen Watch Catalog. You can see details like the shadow of the hands on the dials. Of course these same details are visible in the book. You will also notice tabs on the edges of the pages. These allow the reader to quickly thumb through the book to the section they are looking for. It was a very practical and useful addition to the publication.
I hope you enjoy these fascinatingly detailed photographs and take advantage of this rare opportunity to own your own duplication of this manuscript.
You can find two versions of The Gruen Watch Catalog. The highest quality book is the hardcover. The soft cover is full color but uses a lighter paper weight and different printing technology. Both books are orders of magnitude more readable than the original black and white Master Book which was printed using copy machines in the 1990s.
You will find both versions on Lulu.